The Colmers Farm SAGE Award
Relaunch of the SAGE Award (Video)
An overview of the SAGE Award
The Colmers Farm SAGE award is a new pupil award which we have introduced at our school. It is an award that is designed for our KS2 pupils to reward their efforts, experiences and achievements both inside and outside of school over their time in KS2.
The name of this award – SAGE - is an acronym (a word created from the initial letters of other words) for the four areas which make up the award:
To gain one of the four levels of this award, pupils have to gain evidence/credits from all four of these areas. Examples of evidence for each of the areas of this award can be seen by clinking on the links above.
A summary of the SAGE Award and how it works
Please watch the short video below which outlines the award and how it works.
Aims of the Award
This award aims to:
Develop our pupils to their full potential;
Broaden and enrich our pupils' experiences (develop cultural capital);
Develop and broaden pupils' interests and talents;
Encourage pupils to be more active and lead healthier lifestyles;
Allow pupils to make positive contributions to school and community life (responsible, respectful and active citizens);
Develop confidence, resilience, independence and strength of character;
Raise and broaden aspirations;
Celebrate achievements both in and outside of school;
Develop social skills, build social capital and provide opportunities to take risks.
How many levels to this award are there?
There are four levels to this award:
Bronze (8 tasks completed)
Silver (12 tasks completed)
Gold (16 tasks completed)
Platinum (20 tasks completed)
These levels must be gained in order.
How many pieces of evidence are needed from each of the four parts which make this award?
To calculate this, you need to divide the number of tasks that need completing by four. For example, the bronze award consists of 8 tasks, this means that there are two tasks for each of the four sections which make up the SAGE award. Please see the diagram which also illustrates this.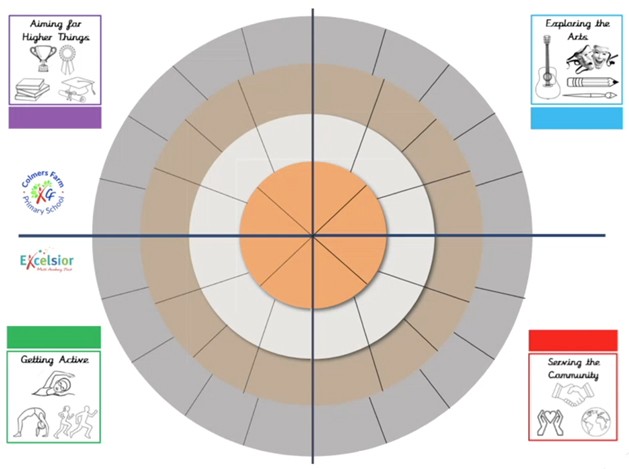 Can all of the evidence be attained outside of school?
Unfortunately not. The award is designed to reward and develop pupils both inside and outside of school. At least one piece of evidence must be attained both inside and outside of school, for each area of the award, for each level.
How is evidence collected?
Evidence that pupils can submit for each aspect of the award can take numerous forms. This may be in the form of photos, certificates or written evidence.
Once evidence has been collected this should be displayed in the pupil's folder or book. This should also be accompanied by a skills slip (available from the office and class teachers).
Evidence folders and books may go home to have evidence stuck in them, but they must be returned to school as soon as this has been completed (ideally the following day).
Can the same evidence be used for different levels of the award?
Unfortunately not. Only evidence gained after the competition of one level may be used towards the next level.
Who decides if the evidence provided is counted towards the award?
Within Colmers Farm, we have a number of SAGE moderators. The role of the moderators is to collectively look at the evidence pupils provide within their evidence folders/books to check that it is suitable. Where necessary, pupils may be asked to provide more evidence to gain a level of the award where moderators feel that there is not enough suitable evidence.
What do pupils get when they complete an award?
As well as their individual personal growth, along with skills, experiences and interests developed through carrying out the different activities (which is the main aim of this award), pupils will also be awarded with a special badge and certificate once each level has been completed. They will also have their names send out on the school newsletter. 
I have some questions about this award?
If you have any questions about this award, please speak to your child's class teachers who will be happy to help.