Uniform
Our school uniform is gender neutral and consists of the following:
Red polo shirt (EYFS, Years 1 and 2)
White shirt or blouse - not polo shirt (Years 3 to 6)
House coloured school tie (Year 5 and 6 only - The first of these will be provided by teh school)
Grey, navy or black skirt, pinafore dress, shorts or trousers - not jogging bottoms
Red and white checked or striped dresses
Navy blue sweatshirt* or cardigan* - no hoods - plain or with school logo
Plain white or black socks
Black, navy or grey tights
Flat, black or navy appropriate shoes - no trainers
Red book bag (EYFS - Year 4) *
For Forest School:
Plain navy or black jogging bottoms
Wellies and appropriate socks
Small pump bag*
For PE (all children):
Plain navy or black shorts
Red t-shirt*
Plain trainers or plimsolls.
Small pump bag*
Please remember to name all items!
Full details can be found in our Uniform Policy. You can also download our Uniform Leaflet: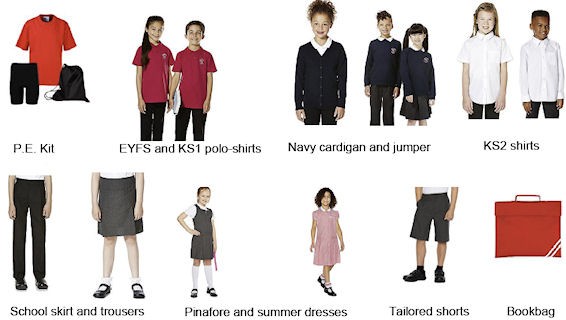 Where to Buy
Our school uniform colour is a combination of red, navy and grey/black. Most items can be bought from High Street shops.
Items marked with an asterisk above can be bought with the school logo on if preferred. 
Iron on badges are available from the school office at the cost of £1.20.
Second Hand Uniform
Good quality second hand uniform is available free of change (including coats, school shoes and PE kits) from Rubery Schools Community Swop Shop. This is a community organisation that can be contacted via Facebook or www.ruberyswopshop.co.uk.